Post by Brian on Dec 17, 2017 17:00:49 GMT -5
I guess this might be a how to by demonstrating how not to...or at least what's been working for me.
I needed to cast some parts for a scratch build that I am doing...so I figured with some of the threads that I have read , it might be an opportune time to do this.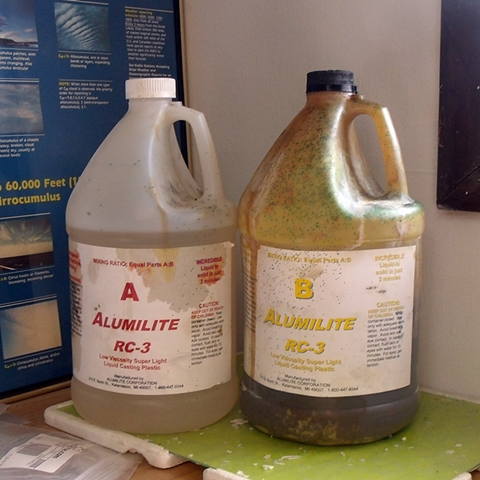 Hosted on Fotki
This RC-3 is older than the hillbilly hills, its what I have been using with little issue. I inherited this RC-3 via a local hobby shop from fellow Topekan ,Bob Hayse when he went to Croatia about 3 years ago www.alumilite.com/hobbies-supplies#prettyPhoto/3/ Bob is a contributor to Alumilite and it wasn't until I hooked up with him that I was getting the most out of resin casting...he turned me on to Alumilite and the rest is history.
I have read accounts of where the OP claims that the RC-3 has gone bad after one use or it worked fine the last time I used it a few months ago and now it doesn't work. I just store these jugs under my work table in the hobby room...the only issue that I have had is having to pry the lid off of the part "B" jug because it has become stuck to the jug after sitting for a few months. I have found that the lids from antifreeze/ coolant jugs and the 5 qt. motor oil jugs are the same size and have used them for replacements. After this last pour , I coated the jug neck with Vaseline in hopes that will prevent the cap from getting stuck. Probably will get some pumps when I place my next order.

I think one the biggest issue people are having is the mix ratios by being off. The closer that I can get to an absolute equal amount of both parts "A" and "B" the better results that I had. MIX NO LESS THAN 1/2 oz. OR 14.1748 GRAMS OF BOTH PART "A" AND "B"...THATS NO LESS THAN 1/2 oz. OR 14.1748 GRAMS IN THE PART "A" CUP AND NO LESS THAN 1/2 oz. OR 14.1748 IN THE PART"B" CUP. 1/2 oz. or 14 grams..thats it , no less.

Because of the age of the RC-3 that I am using, after pouring into the cups, I stir the parts "A" and especially "B" before combining the two.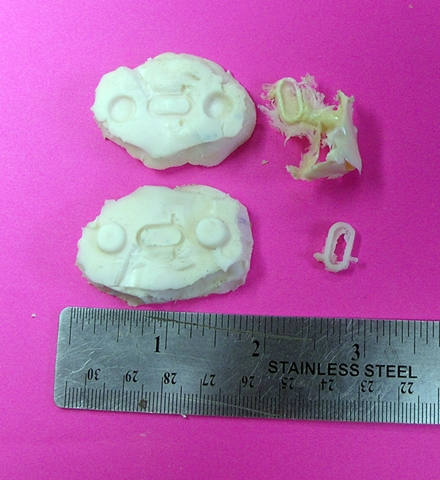 Hosted on Fotki
This picture shows a good pull/pour/cast.. what ever you want to call it and a bad one. The good one is the one at the top next to the mold with all of the flash and pour gate still attached to it...the bad one is towards the bottom, closest to the ruler. The good one is nice and solid...ready to clean up and attach to the build and paint. The bad one is soft and rubber like...tears easily ...unusable.
The only difference outside of the pieces themselves is that the good piece was mixed with a correct ratio ....14 Grams as stated above... and the bad one had a ratio that was off. I poured other molds to use up the rest of the resin (28 Grams total mixed)
Notice the difference in color ...good color with the top piece and an almost White color with the bottom piece.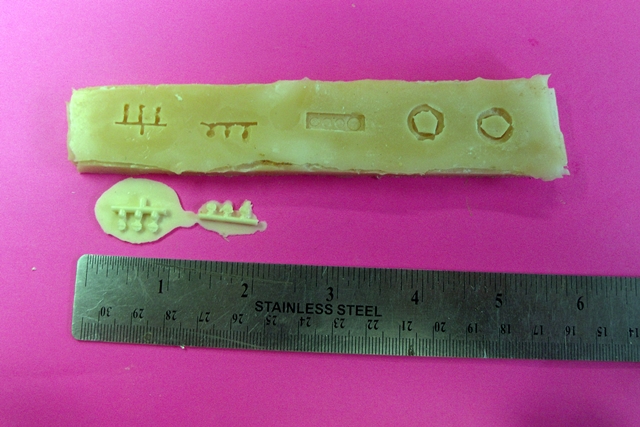 Hosted on Fotki
Here is an example of a gang mold...multiple pieces in one mold...with this one I can do hood pins (pictured) dash mounted gauges and rear brake rotors.
Warming your mold is important.....especially for smaller molds....140 degrees in an oven for 15 to 20 minutes or nuke it for 1 minute on high in the microwave. I have a small toaster oven in the hobby room.....works great for me. Warming the mold does make a difference...allows the resin to cure properly and harden especially with small or thin parts.
I have left molds in the toaster oven at 140- 150 degrees for up to a half an hr. no issues.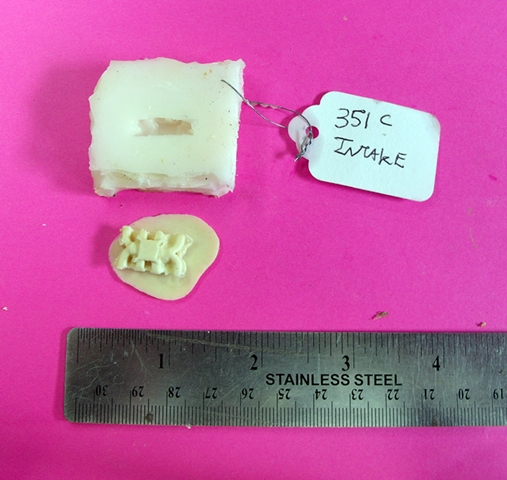 Hosted on Fotki
This mold is HS-3 I prefer to use HS-2 especially for the 2 part molds since it is harder. HS-3 works fine with this piece since I have to squeeze it while pouring to get any air bubbles out and also there are undercuts on this intake manifold that make it necessary for the mold to be flexible enough to get the piece out without damaging the mold or resin piece.
Some of my molds are labeled like this one due to the fact that I have several types of one particular part...as an example I have 4 different intake manifolds that look pretty much the same as far as the mold is concerned.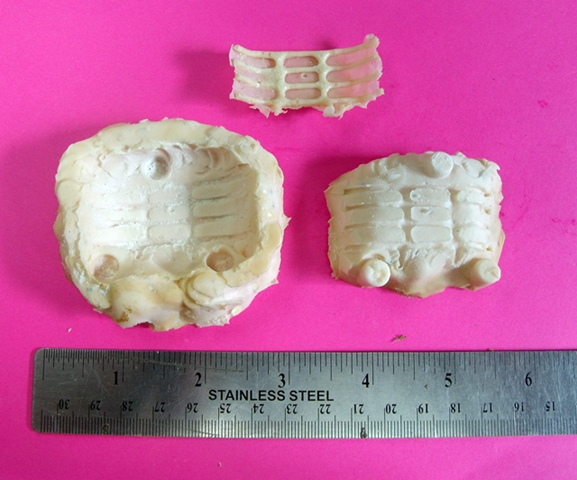 Hosted on Fotki
This is a simple two part mold ...simple as in I don't need anything to keep the two halves together when pouring...I simply pour some resin in and put the top piece on/in the bottom piece.
Notice the baby powder in the mold....this breaks the surface tension and helps to reduce or eliminate all together the possibility of air bubbles in the part. The baby powder does not effect the resin and is not visible in a poured piece.
There are some dimples in this piece...I need to do some work on this mold so that future pours are perfect.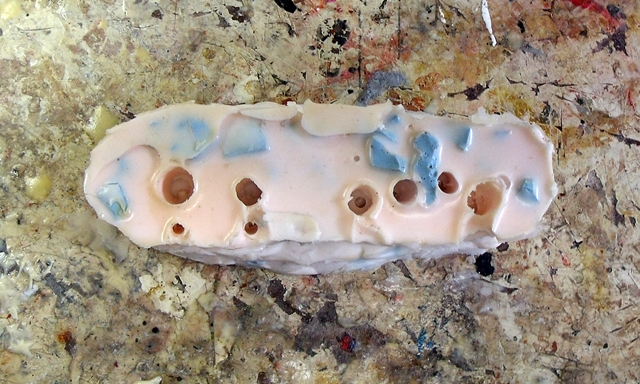 Hosted on Fotki
Top view of a more complex 2 part mold. Visible are the pour gates and vents. To conserve on RTV rubber, I cut up old molds that I didn't need for filler....the Blue pieces that you see. RTV rubber will adhere to itself.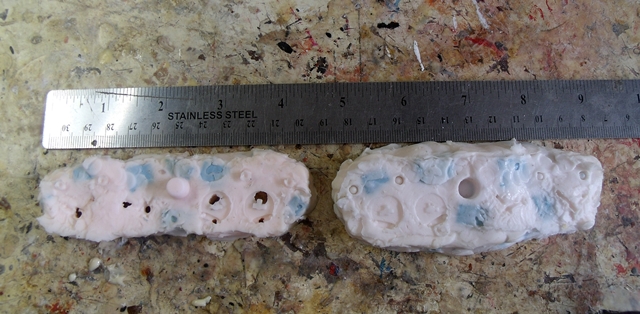 Hosted on Fotki
What the inside looks like .....HS-3 (Pinkish color) and some unknown (Blue)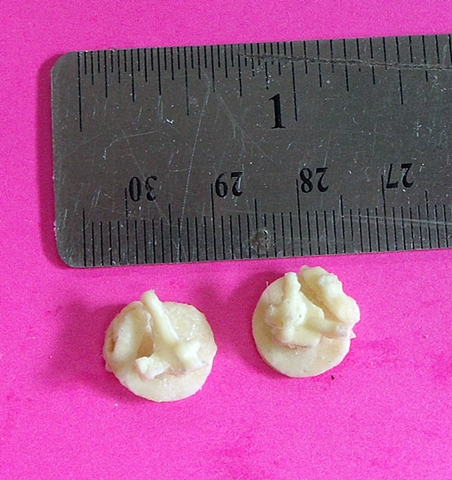 Hosted on Fotki
What comes out of the mold....4 separate pieces that combined make a Right and Left spindle with brake rotor and caliper. This is another mold that needs some attention...flow issues to the thinner parts and perhaps some more venting is needed.